Daily & Weekly Office Cleaning
Office cleaning has been at the heart of our business for over twelve years. It is where we began and where we excel. We believe that image is everything and first impressions do count. Let us help you to create a clean, fresh and pleasant working environment that helps to enhance your image to your customers, visitors, and staff.
Whatever the size of your business our personal and cost effective approach will ensure that your business is the top priority. We provide all our own cleaning equipment and supplies. There are no contracts and we stand by all our work with a Full Value Guarantee.
Key Services:
No Contracts

24/7 Cleaning

Flexible Hours to Suit

Secure Key Holding

Cleaning to COSHH Standards

Compliant with Color Coding Scheme

Uniformed (DBS) Police Vetted Staff

Fully Insured with Signed Confidentiality Agreements

Cleaning Equipment and Chemicals Provided

Communication Log Book

Full Value Guarantee

Why Us?
Surveys show that 60% of absences from work illnesses are contracted from dirty equipment in the office, such as E Coli and Bacteria.

We sanitize the following equipment on each visit as standard telephones, keyboards, mouse, arm rests, light switches, temperature controls, buttons on photocopier, fax machine, door handles, conference room equipment, and toilet flush buttons.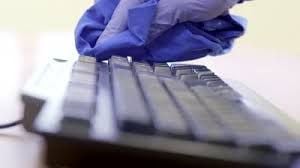 Clean Sweep always aim to be at the forefront of any new technology and today we are the only company to utilize black light technology. All cleaning teams are issued with black lights and encouraged to use them. Site inspections are always conducted using black lights.